Slow and steady won the day
Middle Carter Mountain, Bean's Purchase, NH. 2018-03-29. (Tuesday)
Via 19 Mile Brook Trail, Carter Dome Trail, Carter-Moriah Trail
35 dF +/- at the trailhead, 50 at the summit. Sunny, becoming overcast. Wind at summit was almost non existent.
Trailhead: 0930; South Carter Summit: 1300; Middle Carter Summit: 1410; South Carter Summit redux: 1530; back at car: 1755.
Since I was rebuffed by deep snow, no discernible trail, and a huge amount of blow-downs last week, I was thinking about how today would turn out. Seeing Lady Grey's report on NE Trail Conditions was reassuring. So I went ahead. Success today would mean I'd have 15 peaks on the list.
Weather-wise, the day was great. Quite warm, no real wind to speak of all day. The snow is getting really soft now that spring is really taking hold, so the way going was fine, but could have been faster. I was on snowshoes from the outset, and though three hikers (each with dogs) pointed out "you don't need those — the trail is packed hard", I knew the ridge wouldn't be so nice. For some reason, they kept thinking I was only in it for the 19 Mile Brook trail, and nothing else.
I got to the Carter Dome trail and was vindicated. It was very much a robustly packed monorail, but there was a sponginess to it that made me glad for the traction afforded by my snowshoes. By the time I hit Carter-Moriah, the trail got even spongier yet. I suspect a combination of low traffic, and yeah, it was getting really warm. I was sweating like a pig.
Here's where I take a quick moment to talk about glasses. I was wearing a pair of Bolle tinted safety glasses, but they fog up really quickly. Today, I wore a pair of Julbo Sherpas, and they were amazing. 10/10, highly recommend. The blue lenses made the snow really 3-dimensional, even when the light got flat as the clouds moved in. Incrementally, I'm making changes to my kit, and incrementally, the experience is improved.
I'd brought a small pruning saw to deal with blow-downs, and it got some use, especially at the summit of South Carter. There is still a huge need for trail maintenance, but some of the worst of it is a lot easier to deal with. The smaller stuff is, for the most part, out of the way. The saw folds up and fits in a pocket next to my Nalgene bottle very well. So that worked out well. If anything, I had to dial back my enthusiasm to fix up the trail, because it was impacting my time.
At the summit of South Carter, I bumped into Rick, and we exchanged pleasantries for a short bit. He dropped a fair bit of knowledge about dealing with the blow-downs blocking the trail, and when we parted, I made swift work of it. After a little more than an hour, I was on Middle Carter. Batteries on my GPS were dead, so I had to use the Peak Finder app on my phone to find North and South Carter.
I know the USFS wants to keep the austere experience for some of the Whites, but seriously, would it hurt anything to put up a sign on the tree covered peaks, especially those where it's not necessarily obvious? (And I could say something about the way the AMC laid out their maps, because I'd have used my compass to shoot bearings to the Presidentials and worked it out that way… except the Carter map stops before revealing those peaks.) Note to self, don't fall into that trap again.
So to that point, I hiked past what I felt was Middle Carter, just to be sure, and likely was standing on the mysterious Mt Lethe. Not sure, though; my memory is hazy. I did, though, scan around with the Peak Finder app, and picked out a few distant peaks — I spied Mt Blue in Maine, which by Google Maps, puts the day's visibility at around 50 miles. There was a noticeable haze to the air that wasn't present the other day. It was still nice out, and indeed, the Presidentials were mainly cloud-free for most of the day. Washington did put a lenticular cloud over its summit late in the day, but that was about the size of it.
The further along I got, the more the snow got spongy, and turning back, it was obvious the afternoon warmth had done some work. But energized by bagging that last peak in the Wildcat-Carter-Moriah range, I made swift time back to the car. No pups or people this time, but the quietude was nice. All in all, it wasn't the stellar day I had on Liberty and Flume, but it was still a pleasant day out.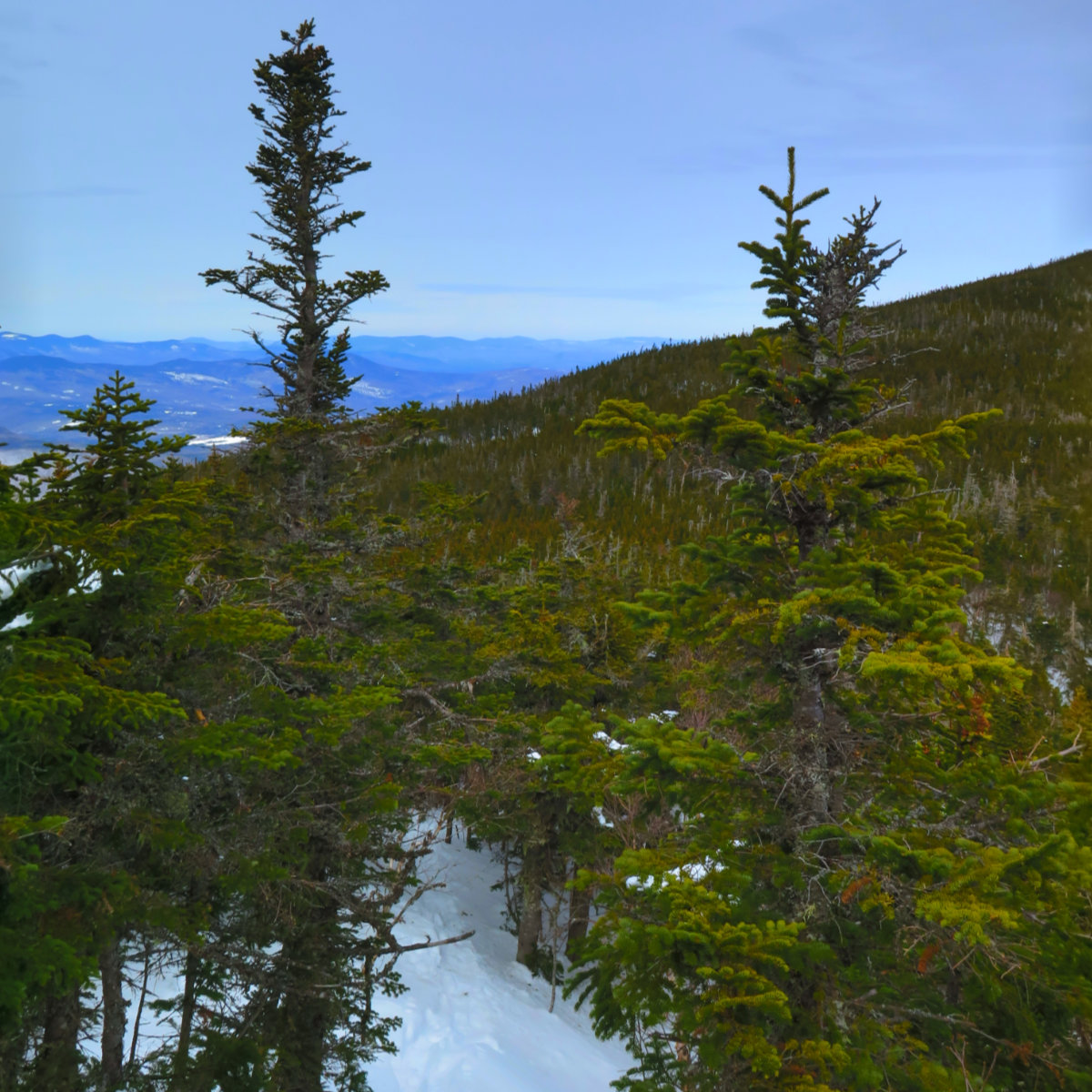 Trail on the ridge between South and Middle Carter Mountains.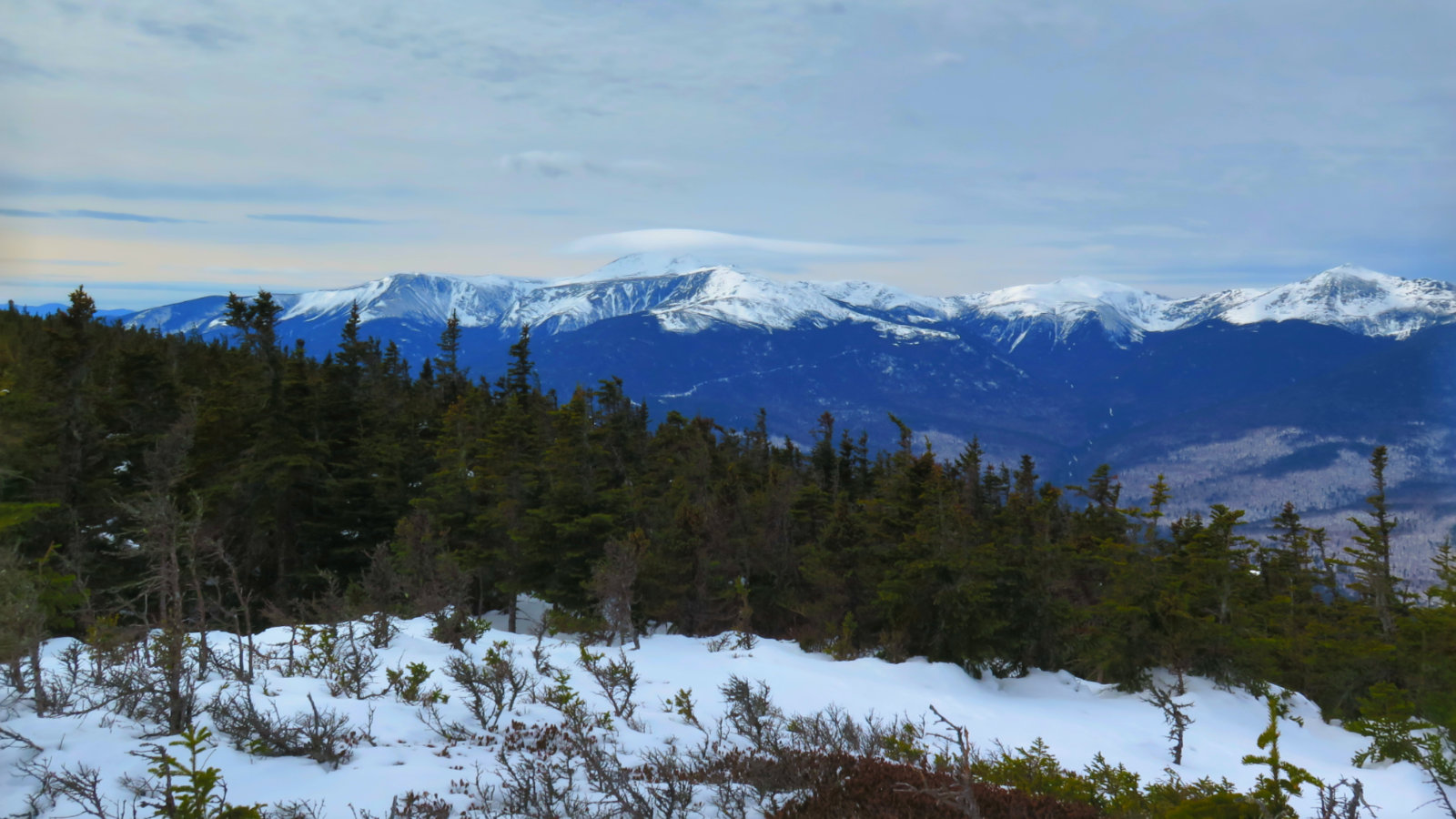 Mt Washington with a lenticular cloud as its hat.