A small thing that makes life easier.
It's wintertime. Duh. But it means switching into my winter pack — a Kelty Redwing that has a zipper front panel and a bunch of outside pockets to keep things organized. Especially in winter, I don't want to have to open the main compartment and dump things out (and lose them) just to find something I should have closer to hand. It's the first pack I got when I "got serious" about hiking, after I was around half a dozen or so into my NH48 list, yet still too early to know better. As easy as it is to access any single thing, the one thing it doesn't have is hip belt pockets. And hip belt pockets are amazing things for keeping things at hand that stuff you don't want to have to stop for, like snacks, your headlamp, lip balm, and so on.
I can't remember when or where, but I saw a blog post somewhere from a long-distance hiker, and she was extolling the virtues of her fanny pack. Forget what your fashionable friends are saying, at least on the trail, they're cool. Thrupack one-ups this by making theirs out of tech fabrics. Not only can you rock the fanny pack, you can rock it lighter and stronger than your pals. Go marsupial! 
Thrupack is a cottage industry based in Norfolk, VA. Paul "Skunk Ape" has hiked the AT and the PCT, so his designs come from miles of "wouldn't it be nice if…" experience. A thru hike is a torture test of ideas and a very elongated graveyard for bad ones. In 5,000+ miles of hiking, Paul's obviously had a bit of time to consider what to include and what to leave out. So far, I've not noticed anything missing in terms of features, except maybe (and rather pleasantly) "fluff." It's a one-trick pony that does its trick very well, without any bells or whistles. 
They're available in various colors, in a couple different tech fibers. When I say "various colors" know that this means they have prints, too, for their packs that have outside pockets. I could have gotten a pack with unicorns and rainbows, abstract patterns, donuts, and a few others. I kept things simple and got the Summit Bum Classic made from Dyneema. It's a nice slate blue color.
The first, strange thing that you'll notice is that their packs come with the belt either sewn in or separate; I chose the latter option. It's weird to think of a fanny pack without a belt until you realize they're made to have multiple carrying modes, and then you ask why everyone else didn't get this memo. Aside from the "tunnel" on the back to receive a belt, they come with a small loop sewn into the top outside corners. You can mount it on your backpack's hip belt if that makes sense, use small carabiners to hitch it to your shoulder straps to keep it up high, or however else makes sense. Thrupack has a bunch of different add-on belts as well, for one-step shopping. The belt I got to go with it has a stretchy spandex section, which is nice and comfy.
The pack's main compartment is big enough to carry a handful of granola bars (and a very serious handful at that!) along with my headlamp, reading glasses, and map and compass. The backside is padded with ventilating mesh, and on the inside of that is an unzipped pocket — a good place to stash snack wrappers and that kind of thing. Worn with my backpack, I've not had a problem with chafing or anything like that. The zipper is one of the waterproof types, and while I haven't been out with it in a torrential downpour, the odd dribs and drabs of wet that it's experienced so far have been shed pretty well. That said, you really want to put moisture-sensitive stuff in a waterproof baggie. This is a fanny pack, not a drybag. 
It's a shape and size that works well. I've not had problems with it bouncing or flopping around. For the most part, it just rides along without getting in the way, although when high stepping, it does make its presence known. Not a huge thing, and that's to be expected when wearing something around your bod like that. 
Come summertime, when I switch back to my packs that have hip pockets, I'm probably going to keep the fanny pack as part of my regular kit, although I might switch to carrying it up high on my shoulder straps. No kidding, it's been really nice having a place for snacks and such out in front like that. It's right in the Goldilocks zone: big enough to be useful, small enough that it doesn't get in the way. I like it.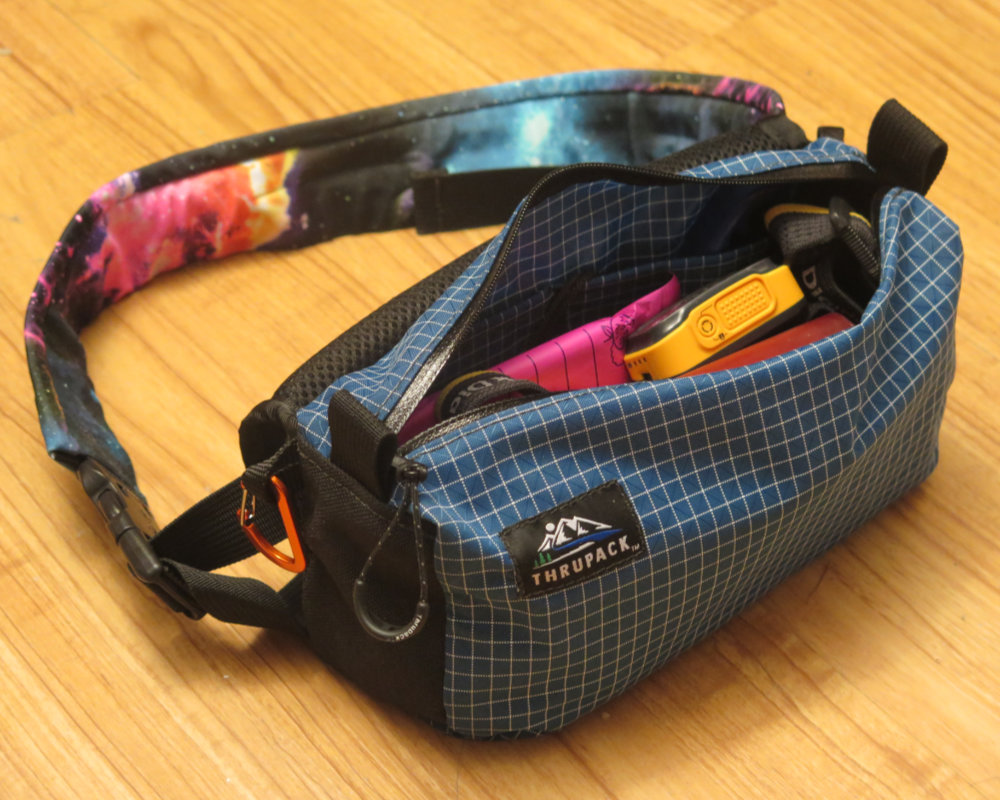 If you enjoy reading these posts, please subscribe — stay in the loop! Your email will only be used to alert you of new posts — typically 1-2 times per week. I will not use or share your email for any other purpose without your express permission. And feel free to share via social media using the buttons below. 
Find me in the mountains, on this blog, or on Twitter: @Protean_Hiker